Technical Assistance
Get help with anything regarding your print shop equipment conveniently by phone from print equipment expert Greg Cozart.
Most commonly Greg helps print shop owners and employees troubleshoot their equipment to determine the solution or walks them through installing a part.  If you need a part, we probably have that too and can overnight ship it if needed.  Don't forget, if you purchase a part from Obsolete Cutter Parts, installation support is included with your purchase!
Equipment consulting is another service Greg can provide on these calls.  We don't want you spending big bucks on a piece of equipment that doesn't fit your needs and certainly do not want you to pay too much!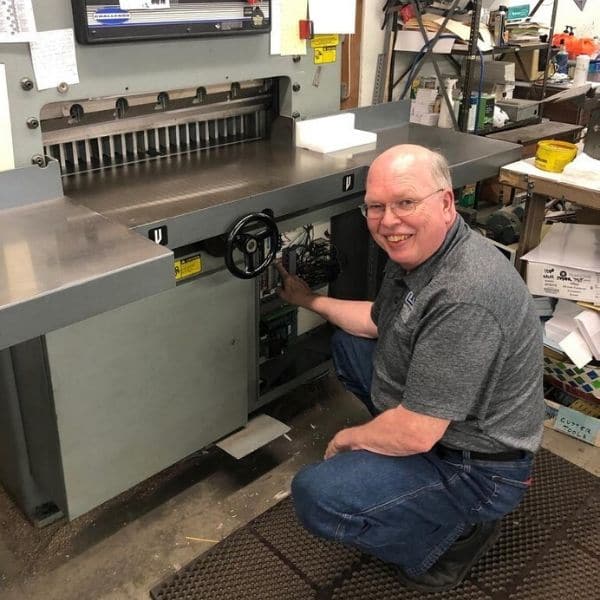 Order Your Support Call
Our phone support starts at $100 and includes up to 30 minutes of talk time with Greg Cozart answering your questions and walking you through identifying the issue with your machine or guiding you through installing parts.  *If you purchased the parts from us, installation help is free.
If the call goes longer than 30 minutes, we bill at a rate of $50.00 for each additional 15 minutes of talk time.
Why hop on a call?
Greg is one of the most knowledgeable people in the print industry.  He has dedicated his life to the print industry following the footsteps of his father and grandfather.  He knows this equipment like the back of his hand.
Compare the cost of not hopping on a call…extended downtime, wait for a local tech to arrive and pay the trip charge and other fees, or pay $5,000 too much for a piece of new equipment.
Support Call Pricing
Up to 30 minutes of speaking with Greg is included in the initial $100 fee.
If your call goes over 30 minutes, the rate is $50.00 for every 15 additional minutes.