Let's quickly go over hydraulic Oil for paper cutters.
Recently, I have been getting calls about hydraulic problems with cutters.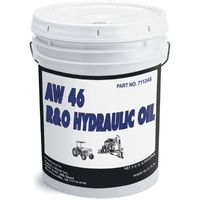 Hydraulic Oil Is Not The Same As Motor Oil, Transmission Oil, or Differential Oil!
After discussing the problem, I ask, "What kind of hydraulic oil are you using?"  To my surprise, some use 10W-30 motor oil, transmission oil, and even John Deere differential oil. None of these oils should be used in a paper cutter! They are loaded with detergents and other special characteristics that work well with their intended use. Some of the detergents may degrade your paper cuter's oil seals and O-rings causing a hydraulic failure.

Use The Right Weight Hydraulic Oil In Your Paper Cutter
Hydraulic oil is a very simple oil, it has an anti-wear agent (known as AW) and an anti-foam agent.
Your hydraulic system does not need detergents and special characteristics for cleaning like the other oils we discuss above.
When buying hydraulic oil for your paper cutter, look for a label that has AW-46 or ISO-46 with anti-wear.  This is the best hydraulic oil for your cutter.
The 46 indicates the oil weight. AW-46 is about a 30-weight oil whereas an AW-32 is a 10-weight oil. Grades of oil should not be mixed in your hydraulic system. If you change the oil, if you need to add some later, it should be topped off with the same-weight oil.
Shop for Hydraulic Oil on Google.  Contact us if you need technical support for your paper cutter or need parts such as cylinders for paper cutters.